How To Delete Spotify Account Step By Step Process
If you have been using Spotify for a long since you may get bored with it. Spotify app is pretty sporty and classic at the same time. But using the app over and over can make you frustrated, which I understand. So this article comes with a solution and its subsequent effects – how to delete a Spotify account.
Things To Remember Before Deleting Your Spotify Account
Before you get into the trick, here are few things you must know first:
Deleting Spotify account will cause you losing your user name. You can't reuse your user name in the future.
You will be able to create another Spotify account using the same email or contact. But you must choose a different user name.
Spotify delete account is only possible with your internet browser, either on PC or smartphone. Desktop or mobile app is no good in this case.
Deleted playlists will not come back, even if you use Spotify recover playlist feature.
Once you delete Spotify account, you will be unable to see who follows your playlist on Spotify in that account.
For a rest, Spotify lets you cancel Spotify premium subscription instead. You don't have to delete it for good. 
You can't deactivate Spotify account.
How to cancel your Spotify Premium
Are you deleting the Spotify account for its costly subscription fees? Just to let you know, you can cancel Spotify's premium service and switch to the free tier. Let's discuss how to cancel the Spotify premium service:
Visit Spotify account page on a desktop or smartphone browser.
Log in to your Spotify account using the correct password. If you have forgot your password, it would be wise to recall how to change Spotify password.
Click on Your plan tab under your Account Overview page.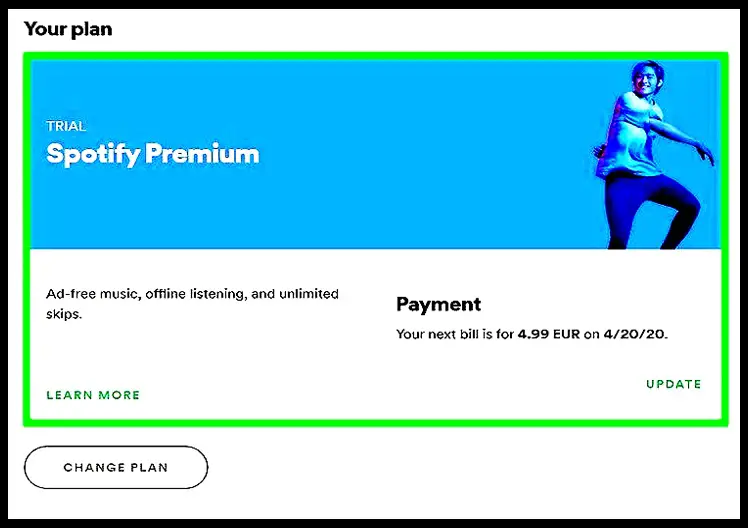 Select Change Plan option and Scroll to Spotify Free option.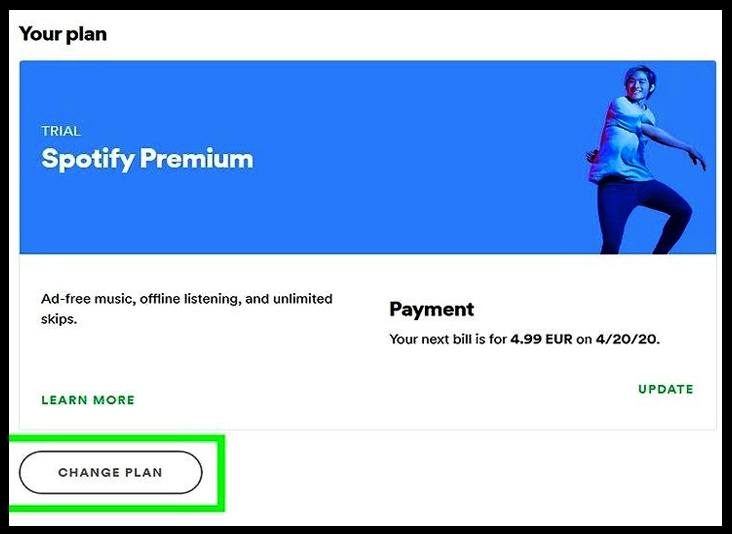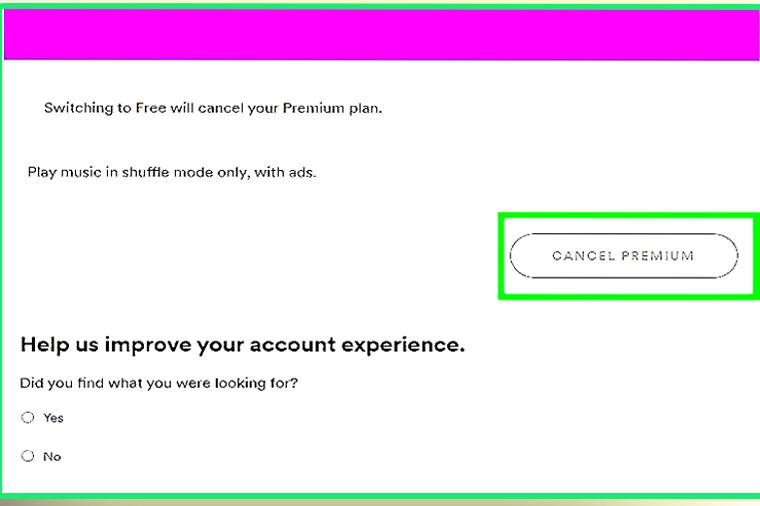 Click on Cancel Premium button and confirm by redirecting to the confirmation page.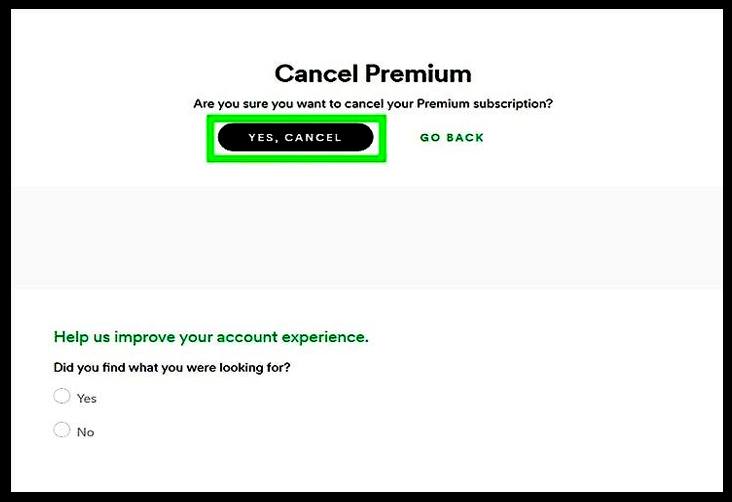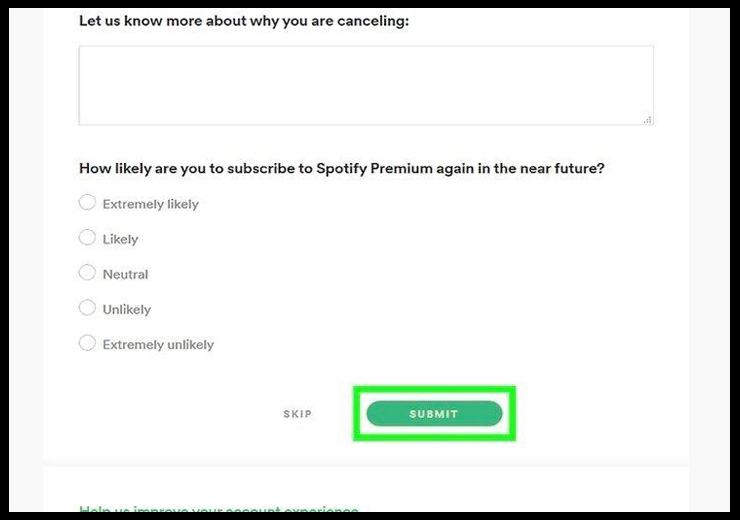 If this doesn't work, then you should check if your account subscription is managed by any third party. Your Spotify premium may have come with your phone. Your mobile provider, iTunes, or any other merchant may have paid a premium subscription for you. You must reach out to them to cancel Spotify membership in that case. Even you must wait till the year-end to cancel Spotify premium availed with student discount.
How To Delete Spotify Account
In order to use Spotify to delete the account, you have to log in to your account. If you are used to login in with your user name, better for you to select an easy user name. You can always change your Username of Spotify. Now the following step by step points will teach you how to delete a Spotify account:
Visit Spotify account page with an internet browser and login to your account.
Click on Help tab.
Search for 'Delete Spotify account' or 'Close account' in the home page.
Select Close your account option from the results.
It will redirect to an Online Contact Form.
Select 'I want to close my account' from Account tab.
Spotify will give you two choices – Close account or Keep free account.
You can cancel Spotify member by clicking Keep free account.
Or you may proceed clicking on Close account to cancel Spotify for good.
Type the necessary information and send question.
Reply to the email directly expressing your wish to close your Spotify account. Someone from the service team will get in touch with you and complete the Spotify delete account process.
Here Is The Step by Step Photo For You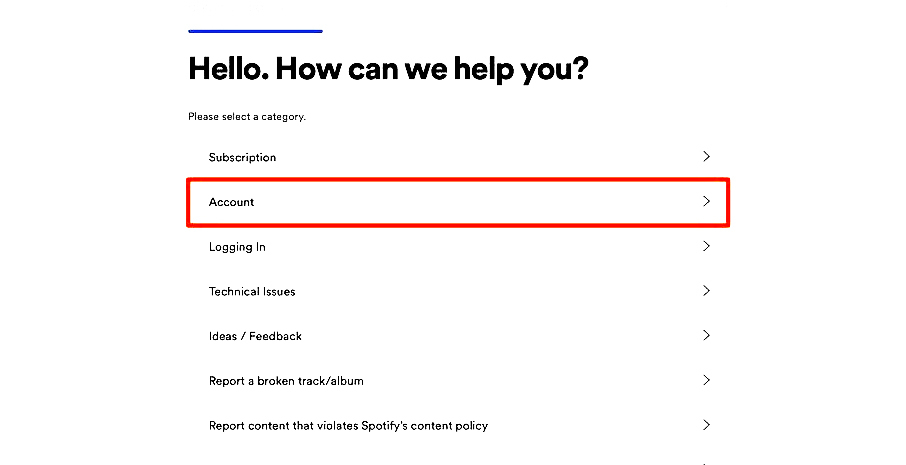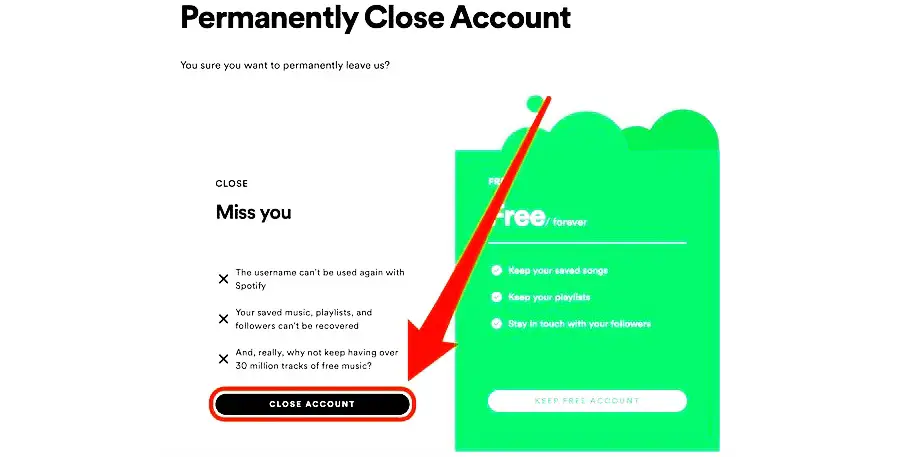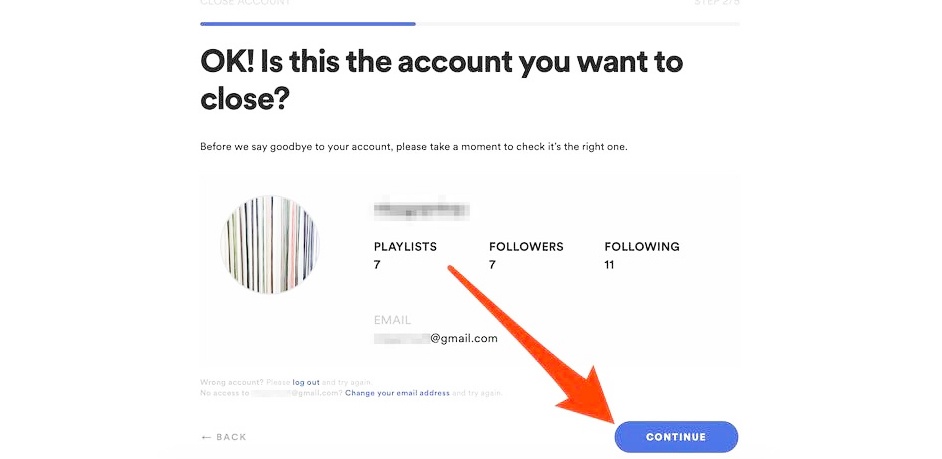 How to delete Spotify account without having access to email address
In case you have lost access to the email address that you have used to open the Spotify account, you may wonder how to delete the Spotify account. You simply have to regain access to your email address. Resetting email password is the best option to regain access. Once you successfully regain access to your email account, you will be able to delete your Spotify account.
If you still don't gain access to your email in any way, you can still get rid of your Spotify account. Follow the below step by step process:
Get in touch with Spotify team on Twitter @SpotifyCares or through Online Contact Form.
Choose 'I want to close my account' option from Account tab and then select 'Close account' option.
Fill up the necessary information and click on Send question button to cancel Spotify service.
Reply directly to the email received from Spotify, even if it has come from noreply@spotify.com.
Spotify support team will get to you on the matter and help you with Spotify delete account procedure.
How to know that it is done
By far, you have known that you can't delete your Spotify account on your own. The Spotify support team will do that for you. When they finish the job, they will let you know with a confirmation email that your account has been deleted successfully.
Question That Asks Our Readers
Is there any way to recover the permanently deleted account?
Unfortunately, if you delete your Spotify account, no one can bring it back. It is possible to bring everything from one account to another. But all the playlists, song history, and follower lists will get lost with a deleted account.
I can't delete my Spotify created through Facebook and I can't connect my other account to my Facebook.
Follow the below steps:
1.Log into Spotify account using user name and password.
2. Find the 'Disconnect from Facebook' option in preferences and click on it.
3. Done! You have disconnected your Spotify account from your Facebook profile.
For connecting your new account to the same Facebook profile, you will need help from Spotify support. Since you just have disconnected your Facebook from your Spotify account, you can't connect it to another one. Just reach out to Spotify support team through an online form and let them do it for you.
When I delete an account, will the email address also be deleted?
Spotify delete account doesn't delete your associated email address. Rather you will be able to open another Spotify account using the same email. Just make sure to cancel Spotify membership before that. Then you can open another Spotify account with association with the same email following the below steps:
1.Log into your Spotify account.
2. Click the Edit option and enter your email address under the Email section.
3. Finally, Save Profile will finish the job.
From the new account, you'll be able to recover playlists from the old Spotify account. Even you can change Spotify playlist picture.
Spotify won't let me delete my account. What should I do?
If you are unable to delete your account on Spotify, you have to contact Spotify support via the Online Contact Form. There may be instances of not getting any response from them at first. You should try and connect with them via the Online Contact Form again and definitely someone will get to you.
Can I temporarily disable my Spotify account?
It's not possible to deactivate a Spotify account. But you can always cancel Spotify membership if you are enjoying Spotify premium membership. Don't know how to cancel Spotify premium? Read out the earlier sections of this article.
Closing the discussion
Spotify with its treasure of music heals your monotony and boredom. But sometimes it can be frustrating to use the app again and again. New music streaming apps can appear as mightier one. Though there are many facilities like Discord music bot Spotify app or others, paying such a high price can create grudges. That time you'll exclaim with wonder how to delete Spotify account.