Spotify Error Code 17 | How To Fix It Within a Minutes
Running Spotify smoothly and uninterruptedly is a dream for any music lover. But Spotify, one of the greatest music streaming platforms, doesn't come without some usual disruptions. A very common issue is Spotify Error Code 17 where you'll fail to open the app to enjoy your favorite tunes. Today, you'll get a tour of this issue and probable way-outs to this.
What does Spotify Error Code 17 imply?
As a music streamer, you may face a typical and frequent issue that Spotify could not be started Error Code 17. The problem is very basic which fails you to launch the Spotify app and run it right.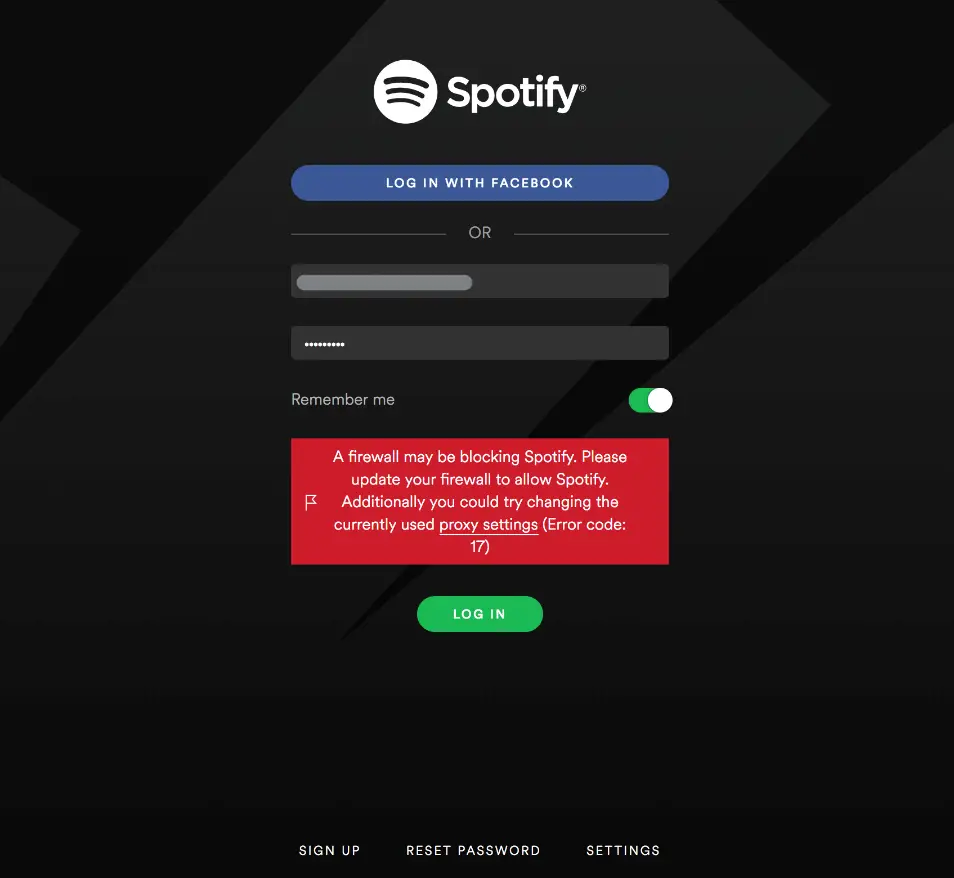 When this problem occurs, you'll experience that Spotify won't open for some reason. You may see Error Code 17 Spotify at the time of installing the app, or at the time of logging into your account. In any case, you need to get to the bottom of the error and solve it before you can head to your profile.
Why does Spotify Error Code 17 occur?
There are plenty of reasons why Spotify won't open. While you're trying to run Spotify offline installer or login to your account, you may see that the app is not opening. This usually happens due to Spotify Error Code 17. Check out the following particular reasons for this problem.
Your operating system's firewall may be blocking the app and causing Error Code 17 Spotify.
Spotify installers may be downloaded wrongly, and thus, won't let you install Spotify on your computer. 
Spotify may not be available in your region, and due to this, you may experience Spotify could not be started Error Code 17 issue.
Spotify will not allow you to get in due to Error Code if you're using a bad internet gateway or unsecured proxy.
Also Read:
How To Fix Firewall Blocking Spotify Error?
How can we solve Spotify Error Code 17 issue?
We've come to know that Spotify Error Code 17 can occur while you try to open the Spotify installer or get into your profile. The probable fixes to this problem rely on these two incidents. In this section, we'll figure out how to deal with Error Code 17 Spotify problem on a computer.
1.Install and run Spotify in compatibility mode:
When you're facing Error Code 17 during the time of installation of the app, you may try this solution. This is the most worked solution as reported by the Spotify community.
To install:
Download the full Spotify offline installer package.
Go to the download destination on your computer, and locate the downloaded package.
Right-click on the Spotify installer package, and select 'Run in Compatibility Mode'.
Follow through the prompt commands to complete the installation process.
To operate:
Locate the Spotify desktop app on your computer.
Right-click on the icon, and select properties.
Select the compatibility tab.
Enable the checkbox to run the app in compatibility mode, and choose a compatible OS version to run the app.
Apply the changes and finalize by hitting on the Ok button.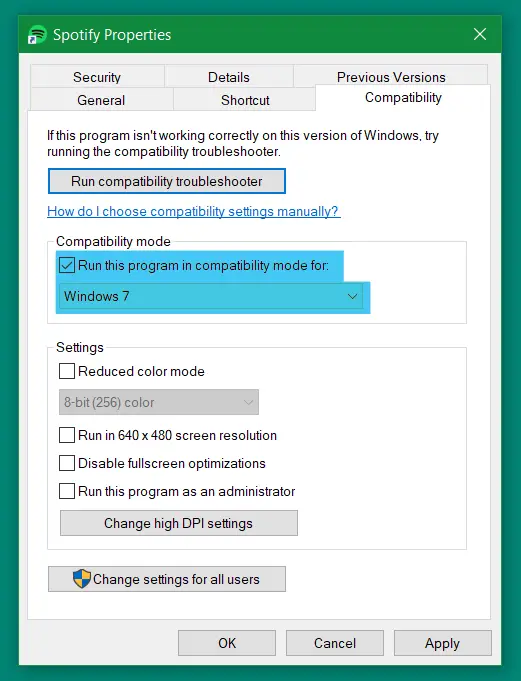 2.Ensure that Windows Installer is running:
If Spotify won't open during installation, one way out is to check if the Windows Installer is running properly. In most cases, the Spotify installer fails to work on your computer due to some misbehavior of the Windows Installer.
1.Go to the Computer Management interface of your computer, and select the Services and Applications menu from the left pane.
2.Select the Services sub-menu, and scroll through for Windows Installer in the main panel.

3.Double click on Windows Installer to open the properties.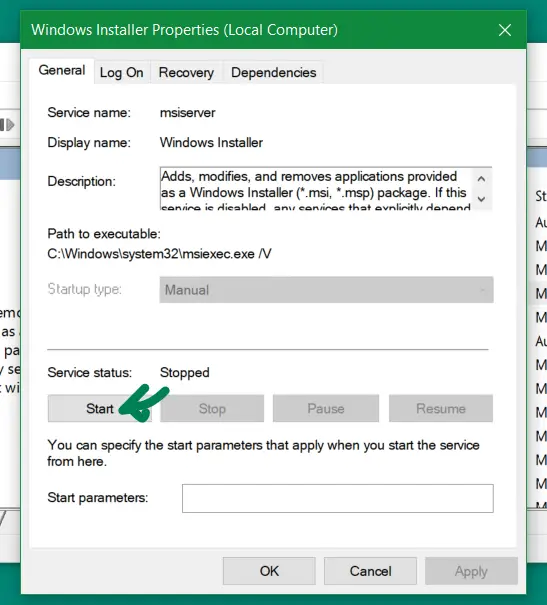 4.Hit on the start button if the status is shown as stopped.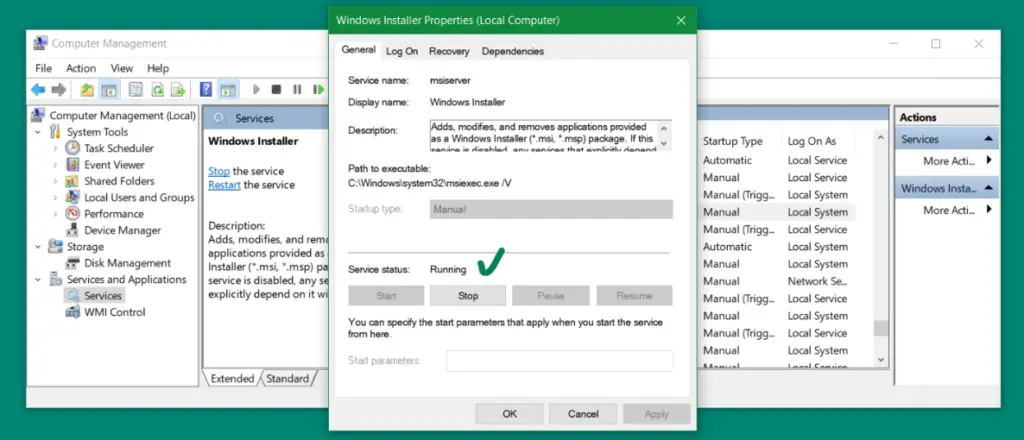 5.Now, try installing Spotify offline installer again.
3.Install Spotify somewhere else on your computer:
Sometimes, you'll be able to install Spotify perfectly, but yet be unable to log in. In this type of Error Code 17 problem, try to relocate the installed files into another place on your hard drive.
Locate where you've installed Spotify.
Enter the AppData folder, and copy all the files inside.
Go to another location, and create a new folder.
Paste the copied files into the new folder.
Run the installer, and get the issue solved.
4.Fix your regional issues on Spotify:
Spotify Error Code 17 can occur if the streaming network isn't available in your country. This is not anything like Spotify Error Code 3 where your username or password is incorrect or Spotify Error Code 4 where you're facing a bad network connection. This happens due to Spotify being not meant to be for your region. Let's see the fixes:
# Use a VPN software: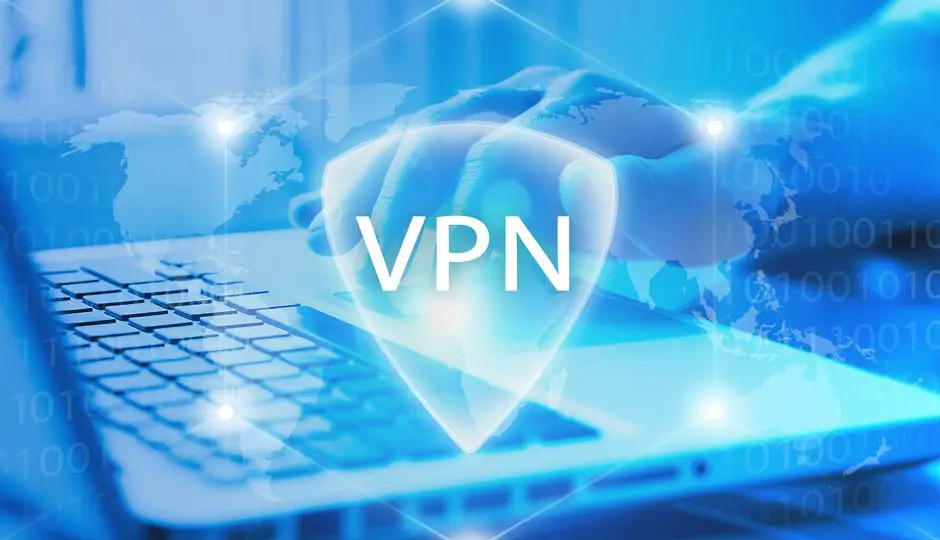 By using a rated and reliable VPN software, you can bypass your own proxy, and use a virtual one designed to be located in another country.
Open the VPN app, and log in if necessary.
Connect to a proxy located somewhere Spotify is available.
Now, install and enjoy Spotify on your device.
# Change your profile's region:
Sometimes, changing the location in your Spotify profile works. If not, you'll always have the freedom to connect to a VPN software, but give it a try first.
Go to the Spotify website and log in to your profile.
Click on the user icon, and enter the account settings of your profile.
Select the edit profile option from the left pane, and change your current country.
Always choose a country where services of Spotify are available.
Ensure removal of viruses or malware from your computer:
Viruses or malware can make your computer risky and Spotify so slow that it'll get on to your nerve. Your firewall can block the installation file and show that Spotify couldn't be started Error Code 17. In this case, you can do the following:
Turn off the firewall protection for local and web threats.
Scan your hard disk with a reliable and strong antivirus program.
Remove the major threatening files. You can also quarantine if the file is important. But don't forget to keep the antivirus updated.
Turn on the firewall protection again.
Launch the installer file, and this time it'll install without any interruption.
Conclusion
Spotify Error Code 17 is a very common problem that users generally experience. However, the problem comes with some great solutions which are very effective and easily executable. If you can understand the way-outs, there's no way you'll deprive of enjoying Spotify on your device.