How To Cancel Spotify Premium Easily On Your PC, Mac, And Mobile
Spotify premium subscription brings many cool features on the music streaming platform. But sometimes, you may get erratic when you found that the subscription isn't worth the value. A song or two might be missing from a particular favorite playlist of yours. Or, you find the music library lacking your desired songs. Even the difference Spotify premium brings from free service may not impress you. Hence, if you want to discontinue the subscription for any reason, here's how to cancel Spotify's premium membership.
How to Cancel Spotify Premium Subscription?
If you are going to take a rest from the vast musical features, you may try to cancel Spotify's premium subscription. For a note of relief, you can get back to Spotify premium mode anytime. Now, let's check out how to cancel Spotify premium membership:
Go to your Spotify account page with a web browser.
Log in to your Spotify account, which has a premium subscription plan.
Scroll to the 'Your plan' section on the account overview screen.
Click on the change plan pop up menu and then go for cancel Spotify premium option.
By clicking on the cancel premium button, the page will redirect you through confirming your account conversion to Spotify free.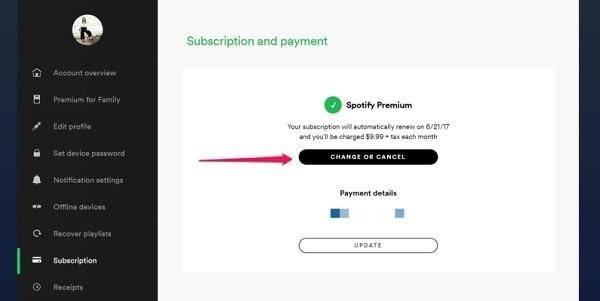 If the above guideline doesn't adequately serve you, you can also reach out to the Spotify support team to cancel Spotify membership. For this, try the following steps:
Step-1: Go to Spotify's contact or support page (support.spotify.com/us/contact-spotify-support/)
Step-2: Select the 'Subscription' option from the pull-down menus.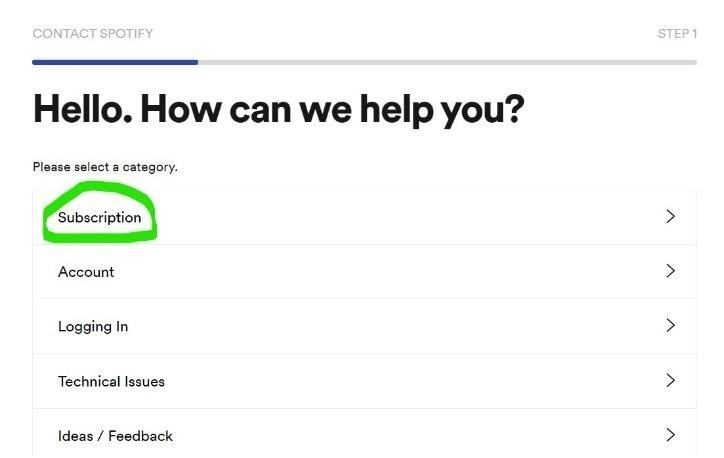 Step-3: Select your topic, 'I want to cancel Premium' will be the appropriate one here.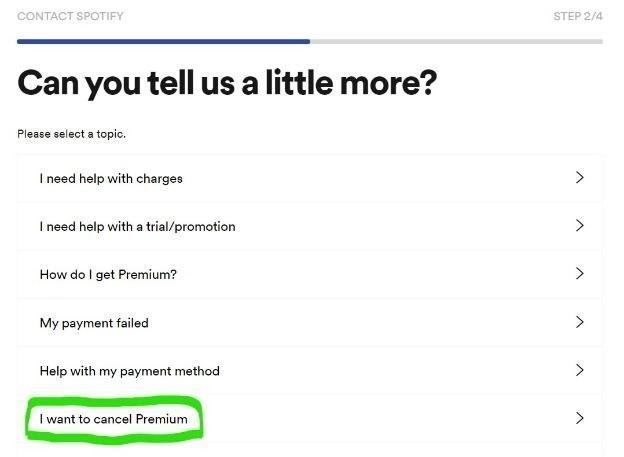 Step-4: From the next window, select the 'I still need help' option.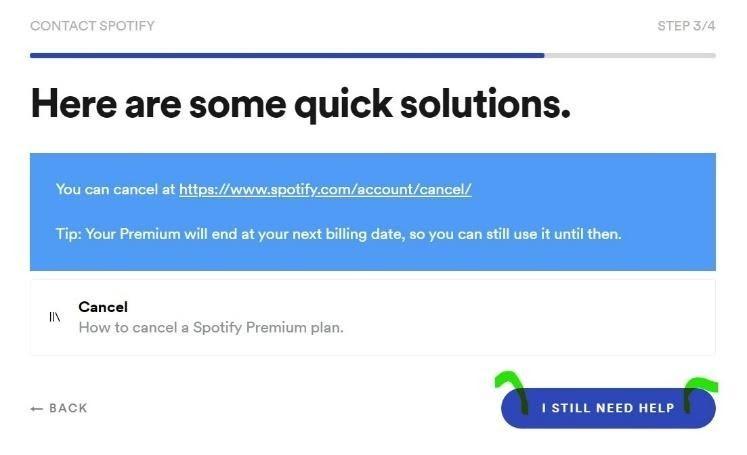 Step-4: An online form will appear before you. Fill in the fields and describe your issue specifically.
Step-5: When you are done with the form, hit the 'Send question' button.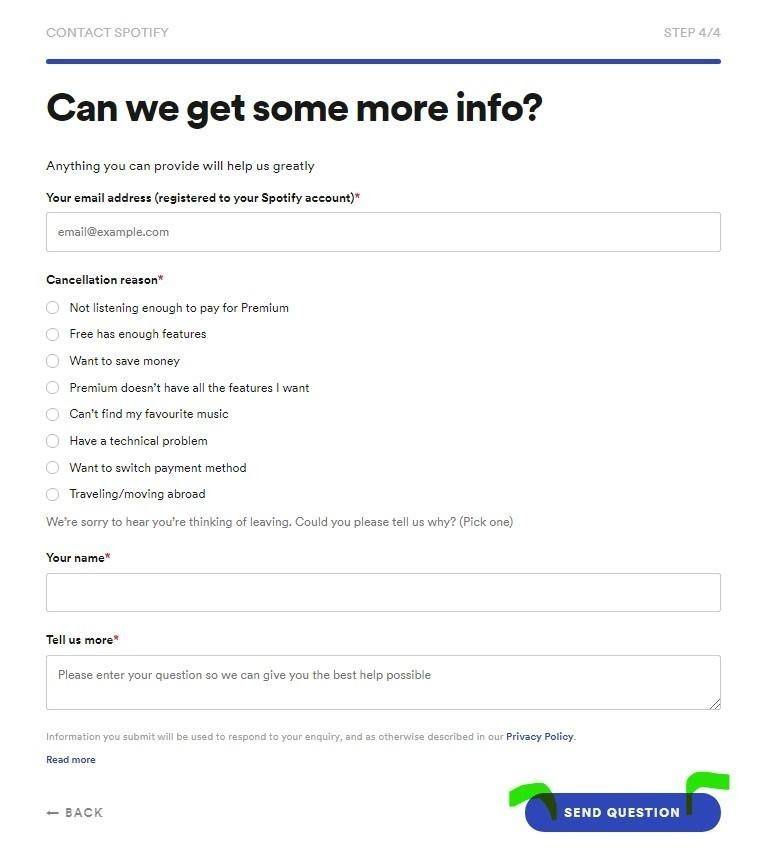 Step-6: The support team will contact you at your email address and, with your consent, will help you to cancel Spotify subscription.
Step-7: You may also contact Spotify on Twitter @SpotifyCares for assistance. 
Cancel your Spotify premium subscription using the app store
When you take your Spotify premium subscription on an iPad or iPhone, the account gets associated with iTunes. As such, you must access your Apple device to cancel your Spotify account with premium features. Here's how to do it:
Go to the 'Settings' app on your iPad or iPhone and tap on your ID.
Select the 'Subscription' menu, and there you'll see all of your subscribed accounts with iTunes or Apple ID.
Hit on the 'Cancel subscription' button and confirm the action.
Why is Spotify subscription not canceling?
There might be several reasons behind failing to cancel Spotify subscriptions. Check if you have your current subscription through any third party, e.g., iTunes, T-mobile, Vodafone, or any other network connection provider. Sometimes, you may be using a student account provided by your school or university authority. In that case, if a Spotify student renews, you won't get to cancel Spotify account. 
When you are using multiple accounts on Spotify, you may lose track of which account you have taken the premium subscription. You can check the associated email of the current account you are logged on, or see if it has an ongoing subscription from the account overview screen. After determining the email or subscription status, you can decide if you need to cancel Spotify membership.
Spotify is charging you, though you have canceled the premium subscription
Sometimes, you may experience that you are still paying to Spotify though you cancel Spotify premium service. This may have happened for several reasons.
One possibility is that Spotify has already charged you for the next cycle before the cancel Spotify subscription. In this case, they won't charge you further.
If you know how to cancel Spotify premium service, you must know that you can confirm if you have done it right. You'll see the date of converting your premium account into a free one on your account page. Hence, you don't see any date, try redoing the whole process again correctly.
If you got your Spotify account through any third party like your cell phone manufacturer or network provider, take their help to cancel Spotify membership.
Check if you are logged on the correct account with which you have subscribed to Spotify. If you are trying to cancel Spotify account from any other email, it won't work.
What to do if Spotify subscription doesn't cancel?
If you know how to cancel Spotify's premium subscription, you are good to begin your free account. But if you are unable to execute the task, you should seek out the assistance of Spotify's support staff. The support representative will help you turn off the premium feature so that you don't get charges anymore. But before that, check if your subscription was taken through any third-party providers. If so, you have to contact them to cancel it. Those who have a subscription from their college or university can simply ask the authorities not to go for Spotify student renew anymore.
Can we reactivate Spotify premium account?
You can return to your Spotify premium membership with the same email anytime you want. You'll have to change the plan from free to premium by choosing a plan and complete payment accordingly. But an issue may arise here.
If you return to the premium feature within three months from the date of its conversion to a free account, you'll get back all of your playlists, old settings, and everything from your last premium membership. But after three months, Spotify won't hold on to those things for you anymore.
Deleting Spotify Account Permanently
If you have already known how to cancel Spotify premium or how to get Spotify premium free, now it's time to learn to delete Spotify account. Try out the following steps:
Visit Spotify's support page at support.spotify.com/us/contact-spotify-support/.
Select the 'Account' menu from the chart, and from there, go for the 'I want to close my account' option.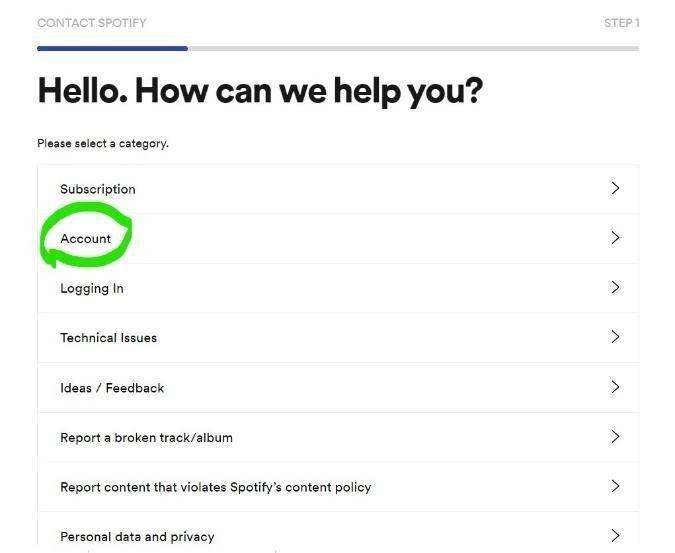 From the following screen, you'll have to choose the 'Close account' option on the left side.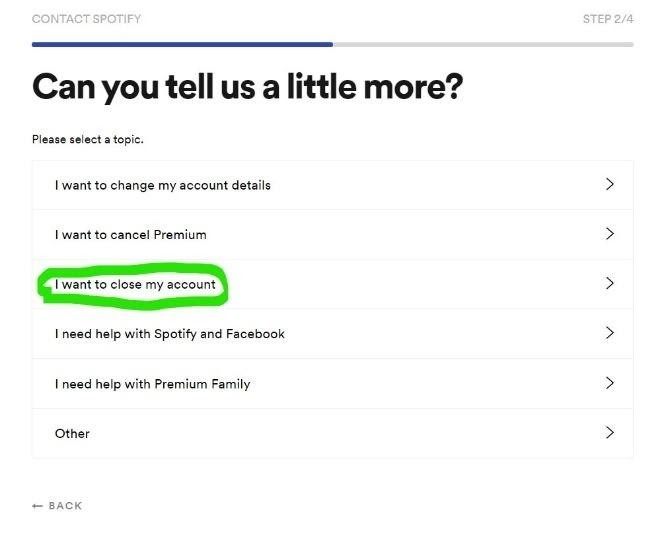 Now you'll redirect to an online contact form. Fill in the specifics and hit the 'Send question' button.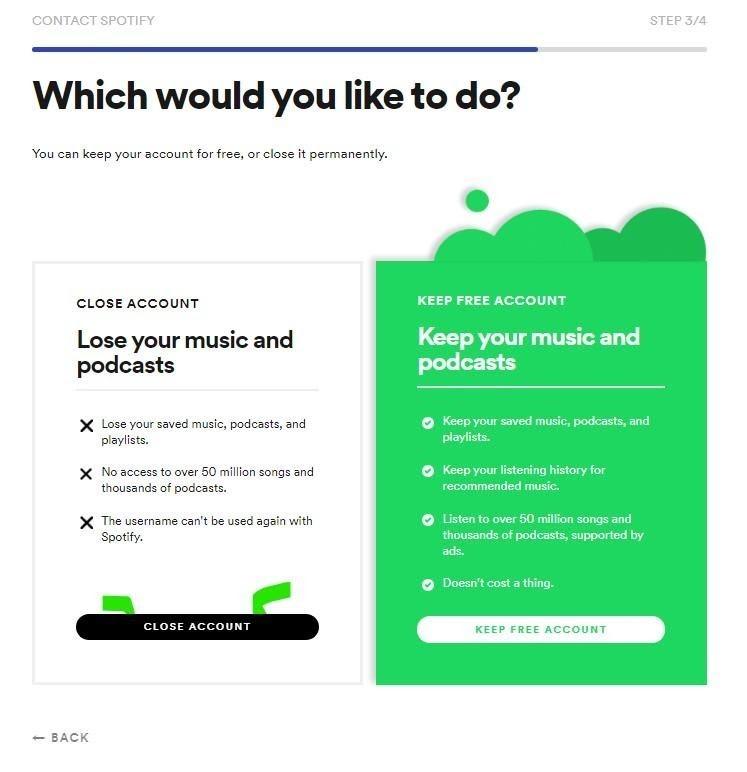 Someone from Spotify care will get in touch with you through email and help you to delete Spotify account.
Conclusion
Many tricks are available for turning off the premium subscription of Spotify. But how to cancel Spotify premium account depends on many things. There are plenty of alternatives to the cancellation of the premium account. But you have to be cautious before choosing one of them and know the bottlenecks of the actions.