How To Listen To Spotify Offline | Listen Spotify Without Internet
Spotify has become the largest and most famous music streaming app in the west. It has a lot of offers for you, but what you'll crave about the most is Spotify offline mode. Spotify lets you save music while you are on the network connection, and enjoy them offline. All you need to learn is how to listen to Spotify offline.
Also Read:
Why is Spotify So Slow? and How to solve?
Spotify Can't Play This Right Now?
Spotify Web Player Not Working
To enjoy the feature, preferably, you ought to be a Spotify premium subscriber. Then you can make the playlists available offline. You also can choose a playlist from your own creation or of your friends on Spotify. So, let's check out how to listen to music offline.
Enjoy Songs from Spotify offline on your Windows PC or Macbook
What do you do when you run out of internet on your computer? Won't it be great if you'd be able to listen to Spotify without the internet? If you are using the Spotify app on either of your Windows iOS or Mac computer, follow this part. The process is just the opposite to listen to free Spotify music online without downloading. Of course, for this, you have to run Spotify with an internet connection.
If you are not a Spotify premium user and wondering how to listen to Spotify offline, here's the solution for you. The following steps will lead right to it:
Step-1 :
Open the Spotify app on your Windows, iOS, or Mac-based computer. At the bottom of the left pane, you'll see the playlists on your profile. You may have created some of them, and some may be recovered playlists.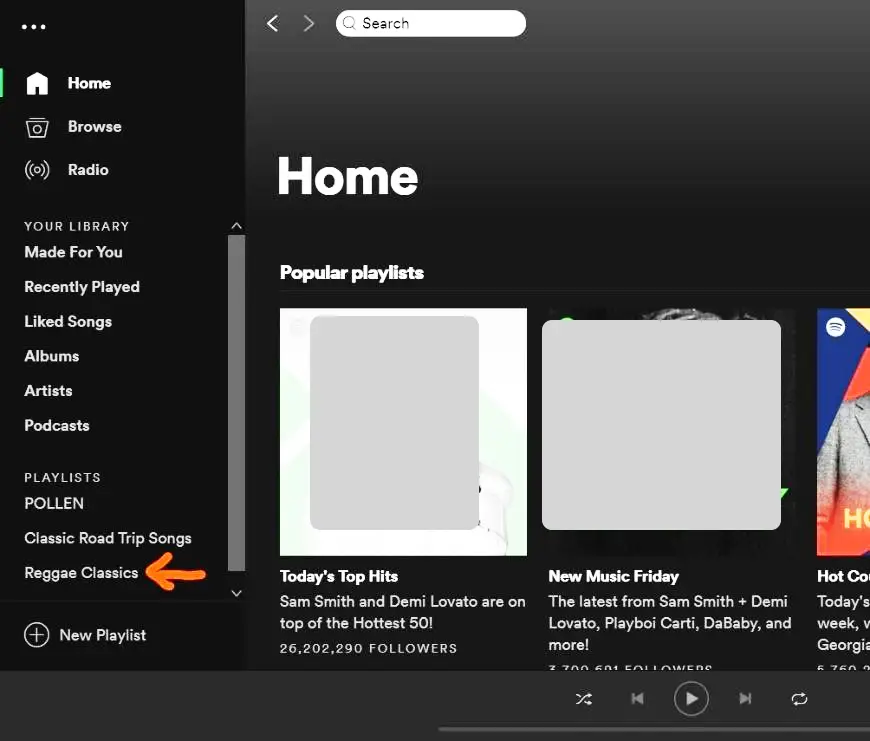 Step-2 :
Select a playlist from the pane, and you'll access inside to view the songs contained in that list.
Step-3 :
Right after the information of the playlist finishes, you'll see a toggle on/off button. This button will allow you to download Spotify music from that playlist at your local drive. Toggle the button on and see it turn green.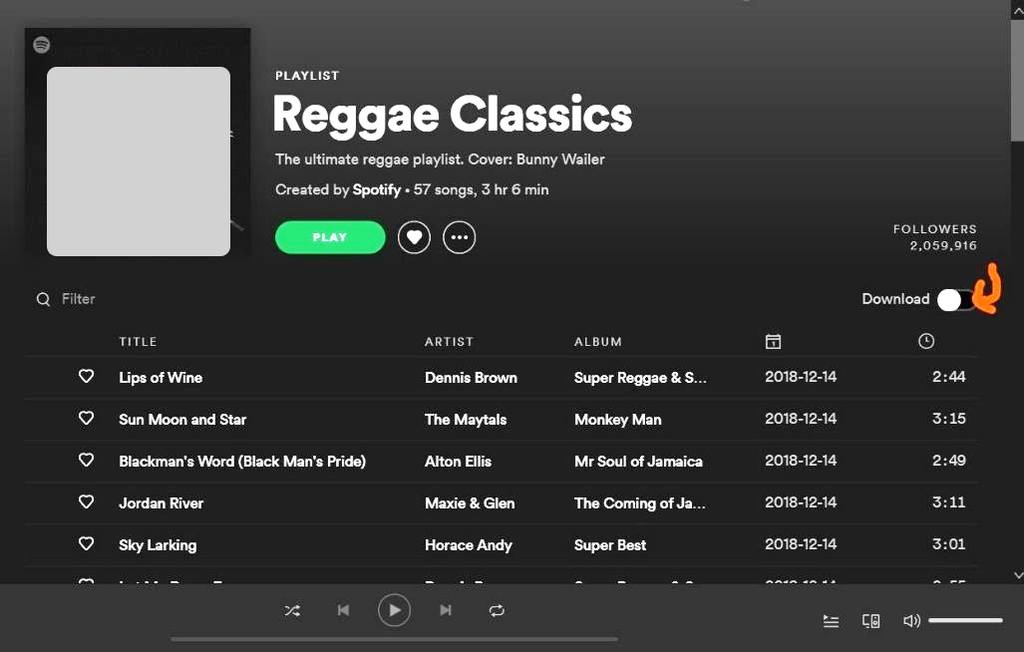 Step-4 :
On your Windows computer, open the menu from the top-left corner of the app, and go to the 'File' option. From there, select the 'Offline Mode' option. On a Macbook, find the option in the 'Apple Menu', and the Spotify option therein.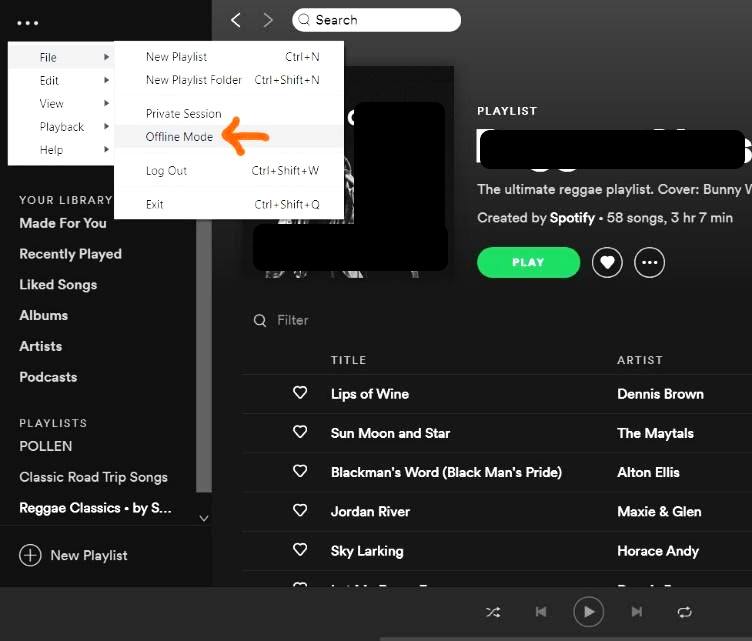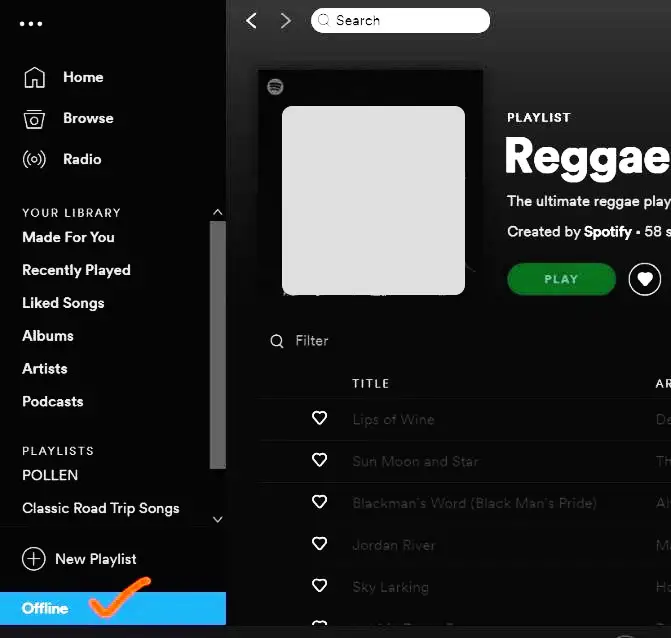 Step-5 :
Now, you are good to enjoy Spotify offline. Try playing a song from the saved playlist.
How To Listen To Spotify Offline on Your Android Smartphone or iPhone
This segment of the guide will cover the answer of how to listen to Spotify offline for smartphone users. Though you can listen to free music online without downloading Spotify music over WiFi seamlessly, you should look into what this has to offer. Both the users of android devices and iPhone will find their way to listen to Spotify with keeping cellular data off. This will also come in handy when you experience Spotify app no internet connection error message.
Steps for enjoying Spotify offline mode on an android device or iPhone appear below:
Step-1:
Open the Spotify mobile app and log into the premium account.
Step-2:
Go to the playlist that you want to listen to without connecting to a network.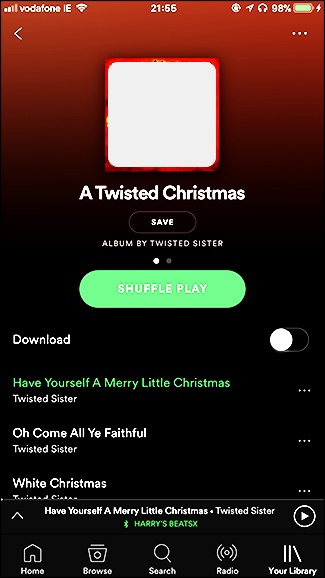 Step-3:
After having access to the playlist on your android device, you'll see the 'Download' option with a toggle on/off button next to it. You'll have to toggle on the button to green and allow Spotify to save cache on your cell phone storage. iPhone users can save the playlist by tapping on the download button with this icon. When downloading finishes, the icon will turn into this.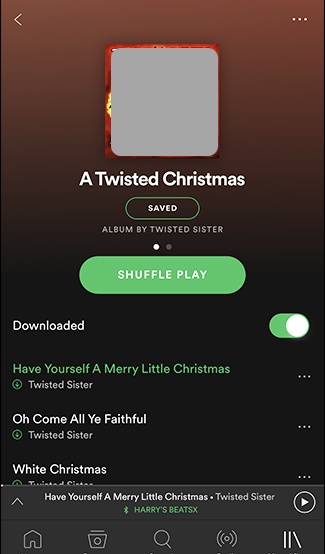 Step-4:
Now, tap on the 'Home' icon and go to the 'Settings' menu by tapping on the gear icon.
Step-5:
Access into the 'Playback' options, and finally switch on the 'Offline' toggle button.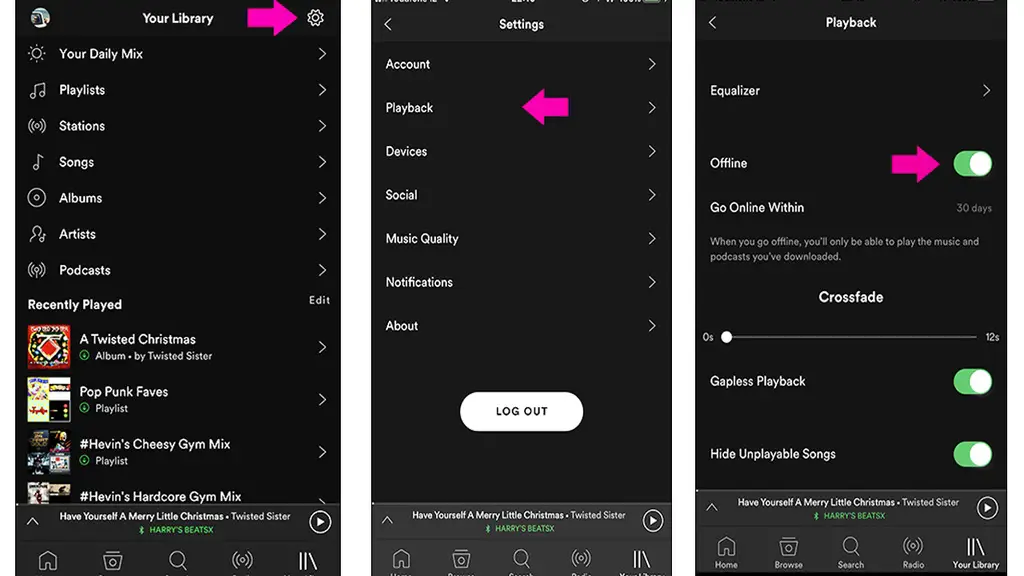 Step-6:
Once you have switched to Spotify offline mode, you'll be able to play the earlier downloaded songs (playlists) in your library.
Listen to Songs From Spotify Offline Using Your Free Account
If you are not a Spotify premium subscriber, you can always listen to free Spotify music online without downloading. But then again, you can always expect an occurrence of error like Spotify can't play this right now due to interruption in your network connection. What do you plan to do at that point if you are only using a free Spotify account? You can't download Spotify music on a free account, then how to listen to music offline! So you should Update To Spotify Premium.
If you are going through Spotify with no internet connection with a free account, then you may download Spotify music. You must take the help of some thirty-party apps. These apps will enable you to download Spotify songs by overriding the Digital Rights Management (DRM) layer. There are different apps such as NoteBurner, TunesKit, Sidify, etc. offering that kind of help. These apps let you download and enjoy songs without turning on the Spotify offline mode. Noteworthy that these apps save the tunes into your iOS supported audio file format such as aac, mp3, wave, FLAC, etc.
Some Key Points To Remember
By far, you now know how to listen to Spotify offline, but there is a lot to remember when pulling the tricks to work. Here are what you should focus on when trying to listen to Spotify by taking off the internet connectivity:
Even after you have turned on the toggle button to download a playlist, the songs won't start to play until they are fully downloaded and created cache files on your storage. The time it will take to sync all the songs depends on the size of the songs. It also depends on the strength of the bandwidth.
Spotify will let you download a maximum of 10,000 songs on each of your devices, but the device limit restricts up to 5. And you must connect to the internet once a month to keep the desired music available.
When you are troubling with Spotify no internet connection, you can only play the saved songs. In that mode, you can't browse songs from the live archive of Spotify.
If you are wondering how to listen to music offline using a Spotify web player, then the answer is that you can't.
Some Questions That asks Our Readers
Why can't I listen to Spotify offline?
You can't listen to Spotify offline for free, but if you use the Premium option then you will be able to.
The cheapest option would be about $10 a month and that's just for one device. For just $4 more, though, you get it on all platforms and all devices and unlimited data on your tablets and phones too.
How do I listen to Spotify offline on my iPhone?
1. Connect your iPhone to the internet and sign in to Spotify.
2. Go to 'Settings' and go under 'Spotify.' Click the option that says 'Download.' This will download all of your favorite songs onto your phone so you can listen offline later! "You can also download music, podcasts, videos, and more from the app!"
3. Once you're all set up, click on three lines at the top-left corner of your app screen, then scroll down until you find a playlist that's titled "Offline." Locate all of the songs that are listed in this playlist by clicking on them individually or dragging them into this playlist from one column or another."
Final words
Learning how to listen to Spotify offline can turn out to be essential for someone who is in travel mode frequently. Choosing your songs well ahead and caching them on the local drive will definitely pay off when you will unfortunately lose connection from the network. Your Spotify music is in safe hands, both online and offline when the musical guardian angel Spotify is here to make it happen.